Available only for Store Manager for Prestashop and Magento at the moment!
You are able by using this plugin operations to create new and update the existing orders at your store based on the orders from eBay.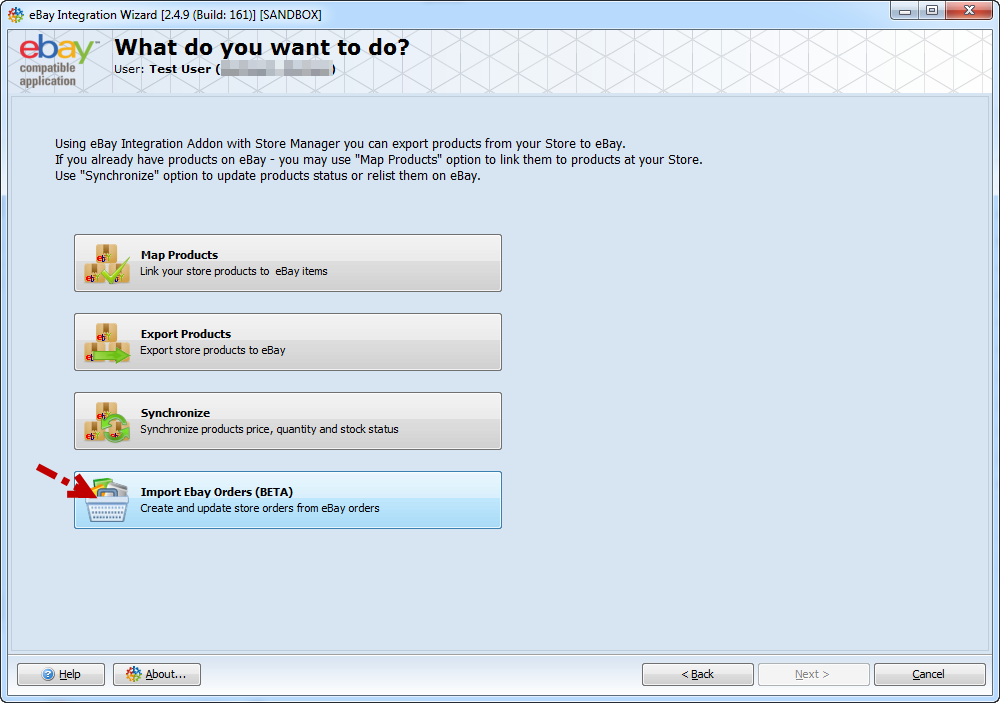 Press the last action in Addon wizard and specify the general options to continue the process.

- select the appropriate store configuration.
Configuration area allows to automatically pull the configuration name which is currently use while importing. However, you can change certain name on the new one by pressing the button in the right .
Specify the configuration name in the form which appears and press
'OK'
to activate it.
The bulk options below serves for saving or restoring all configurations available in the Addon wizard at once.
- plugin recognizes the accounts which have been used previously. Open the dropdown list to choose the account name you need.
If you want to add the new user  - press
'Add
' button and fill the fields in the form to sign up. To get the new eBay account  - fill the registration form.
To delete some account from an existing list - use the button for removal.
If you want all operations are reflected in the log file - check the corresponding field below.

Сlear Cached eBay Data will speed up the import your data from eBay and correct display them at your store.
-  to be able to perform the operation for necessary eBay site - open the dropdown list and choose the site and appropriate currency which is activated on.


Indicate the language which is used at your store in the dropdown list below:
Press 'Next' to proceed. You will move to the next step where you should specify the following data:
1) eBay Items Identification area:
- if you have the field which contains the corresponding eBay orders ID, choose it from the drop-down list. In other case select the first variant and new field with eBay orders ID will be created;
- select field that contains eBay product ID - we strongly recommended to leave this field by default.